Domino's Franchisee Insurance
Continuous Coverage Since 1983
For over 50 years, Concklin Insurance Agency has been a full service personal and commercial independent insurance agent in the state of Illinois. We currently serve the insurance needs of 4,000+ individuals and families and 3,500+ businesses.
In 1983, Concklin Insurance Agency wrote it's first Domino's. The program grew to cover more franchises in Illinois and the Midwest states, and in 1995, Concklin Insurance Agency launched a national Program offering coverage for Domino's and Food Delivery.
For 35+ years Concklin Insurance Agency has provided uninterrupted coverage in the franchise and food delivery market and been a partner with DPI/DFA for more than 20 years.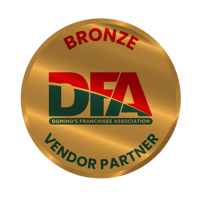 Our Philosophy
Concklin Insurance Agency is committed to providing competitive and consistent insurance through the development of Insurance Programs; allowing franchisees to leverage their group buying power to meet insurance requirements at an affordable rate without infringing on hiring practices.
Concklin Insurance Agency believes in offering the best coverage at the best rate. We represent carefully selected, financially sound, and reputable top-rated insurance companies. Our goal is to eliminate gaps in your coverage, reduce costs through loss mitigation and risk management, and reduce stress by hiring well-trained, experienced professionals.
It is our conviction that the Agent is an advocate for the client and not an extension of the Insurance Carrier. By acting on behalf of the best interests of our clients, our staff transcends from Insurance Agents to Trusted Insurance Advisors
What's included in our program?
Our Program meets all the Domino's corporate requirements with the following coverage to protect the franchisee
Talk to one of our Domino's experts
Family Owned Small Business
We understand small business because we are one. Concklin Insurance Agency was started by Craig Concklin and his father, Tom Concklin in 1981. We continue to be a family owned, small business to this day.
Independent Insurance Agents
Concklin Insurance Agency has relationships with over 30 insurance carriers. This means we have options to make sure you have the coverage you need, at the best value - uninterrupted.
Community Involvement
We understand the importance of community. Which is why we participate in fund raisers, and donate directly to local and national nonprofits.
Client Advocacy
As Trusted Insurance Advisors we are your advocate for all things insurance. We are here to talk about ways to mitigate your losses, provide insights into the insurance market and trends, and ,should a claim occur, we are in your corner every step of the way.
Referral Program
At the end of every quarter we donate $20 for each referral we receive. If you'd like to learn more about our referral program, or send us a referral - click here.
What Insurance Companies do you work with?

We work with over 40 Insurance Carriers. However, we most frequently place our Domino's clients with Illinois Casualty Company, Guard Insurance, and Pekin Insurance.
How long have you been insuring Domino's?

We insured our first Domino's in 1983. The program grew to cover franchises in Illinois and throughout the Midwest, and in 1995 we launched a national program. We provided uninterrupted coverage for Domino's Franchisees ever since.
What other Franchises do you work with?
We have developed insurance programs for a variety of franchises, including: Jersey Mike's, Pap Johns, Del Taco, Dunkin', Blackjacks, Jimmy Johns, Burger King, and more!
Are you partnered with The Domino's Franchise Association?
Yes! We are endorsed by the DFA. We've been partner's with them for over 20 years! We are currently Bronze Vendor Partners.
Do you have a relationship with Comino's Corporate?
Yes! Domino's corporate refers franchise owners to us.
Why you need Employment Practices Liability
Employment Practices Liability Insurance (EPLI) protects employers against charges of discrimination, harassment, wrongful termination, retaliation, and FLSA including wage and hour, and mileage violations - which are at an all time high. EPLI a must have for any employer.
Concklin Insurance Agency offers EPLI with many limit options, and sublimits for FLSA. Our partnered carrier includes Duty to Defend, third party coverage, awarded claims judgements, and FLSA with wage and hour, and mileage reimbursement sublimits.
Your coverage includes a free HR hotline with unlimited access for our clients with an online resource portal to keep you current on regulations, laws, best practices, and guidelines.
We've partnered with a reputable company called Zywave to provide this portal. All the content is written by their team of experienced attorneys and professional writers, so you never have to worry about validating information again. Get to know some of the areas of your portal and how its resources can make your day easier. Receive emails announcing new content tailored to your industry, state and preferences as often as you like. And if you have any questions—at any time—feel free to contact your Concklin Insurance Agency representative.
Independent Agents act more like Trusted Advisors. We have your best interests in mind, even after coverage is bound. Like a Trusted Advisor, Independent Agents are your advocate if a claim should occur. Being in your corner means being there every step of the way, from helping you decide if a claim should be filed to talking with claims auditors and adjusters, the wellbeing of our clients is our number one priority.
Each month we discuss ways you can better equip yourself to handle your risks and exposures. We bring insights into safety and risk management, answer questions about coverage, and discuss topic relevant to helping you understand your exposures and avoid coverage gaps. We post on average twice per month, with one topic focused on Personal coverage and another topic focused on Commercial & Businesses.